Tom Cotton's Slave-Owning Ancestors
Tom Cotton's family owned slaves
Tom Cotton feels very strongly that 1619 project should not be used to teach kids.He has sponsored a bill that cuts funding to using the 1619 project to teach kids. Is an ulterior motive for Tom Cotton to not want anyone to learn the truth about slavery?
If we dig into records of slave ownership, we can see that Tom Cotton's family owned slaves.
Tracing Tom Cotton's Genealogy was rather easy:
In 1741, the earliest relative John Cotton died. In his will, he bequeathed enslaved persons to his children. He had at least 5 enslaved people!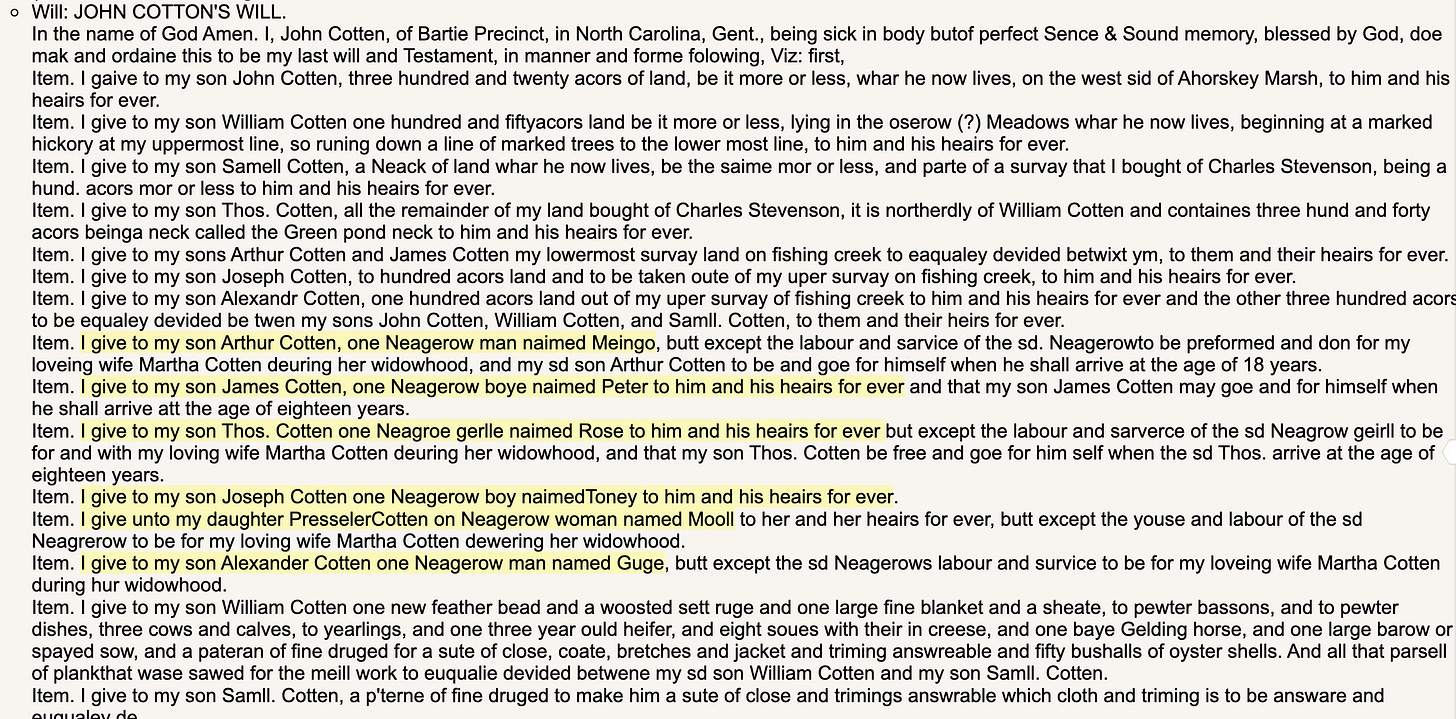 Another version of the will is even less flattering.
Two generations later, Thomas Cotton's will says:
I give and bequeath to my nine children Mary CRYER, Moore COTTON, Letha COTTON, John COTTON, Allen COTTON, Sarah COTTON, Arthur COTTON, Noah COTTON, and Sanders COTTON, all my negroes and all my stock of all kind and all my household furniture and perishable property of every kind to be equally divided among my nine children before mentioned, at the death of my wife Priscilla
Thomas's son Arthur Cotton seems to have moved to Tennessee during his lifetime with an inheritance of an unknown number of enslaved persons. Arthur's son Jesse Hackney Cotton appears on the records.
Jesse's wife's family and Tom Cotton Ancestor Francis Ryon have been listed in the The 1850 Tax List for Drakes Creek Sec., Simpson Co., KY, p. 81, as owning 180 acres of land and seven slaves. Francis Ryon's daughter Rebecca married Jesse Hackney Cotton in 1842. In 1859, Jesse and Rebecca moved to Yell County, Arkansas. According to the 1860 census, Jesse Cotton, owned twelve slaves.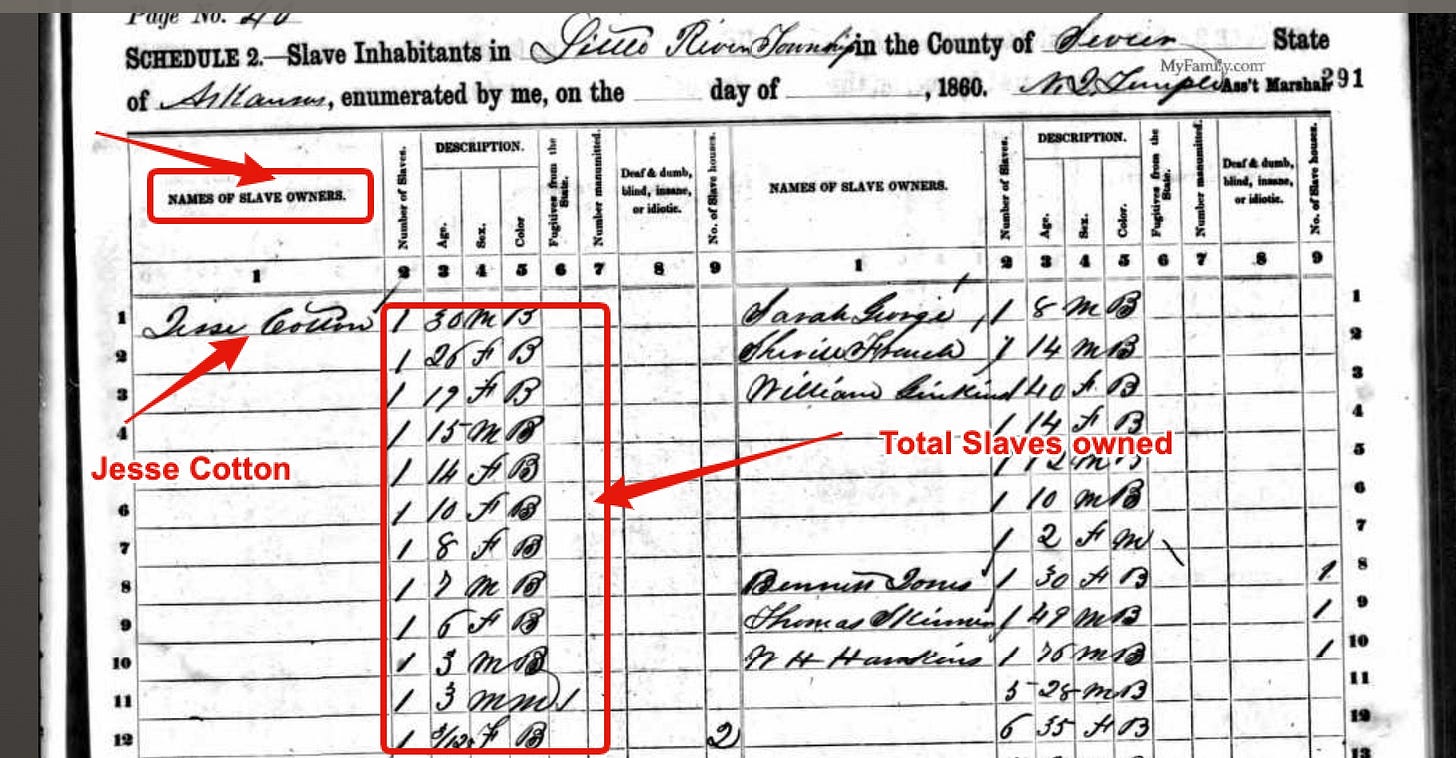 Prior to 1831, Yell County, AR, was home to Cherokee, Chocktaw, Osage,  and Caddo nations. However, under Andrew Jackson's Indian Removal Act, citizens of these nations were forcibly relocated westward.
Based on the Homestead Act, in 1870, Jesse applied for a land grant from the federal government. The US Dept of Interior, Bureau of Land Management shows the Homestead Certificate #1886, Application #8267, for 40 acres of land at the Dardanelle, Arkansas land office, land entry file #AR1970.489. He was given title to this land that was taken from the first nations shortly thereafter.
Jesse and Rebecca had 12 children. Rebecca died while giving birth to the 13th child. Their eldest son Leonard Ryan Cotton was a soldier for the confederacy. We know this because in 1915, Leonard Ryan Cotton applied for a pension as an ex-confederate soldier. Leonard Ryan Cotton died in 1920.
Thomas James Cotton, Leonard Ryan Cotton's son, lived in this house, which has been named a "historical home" since 2001.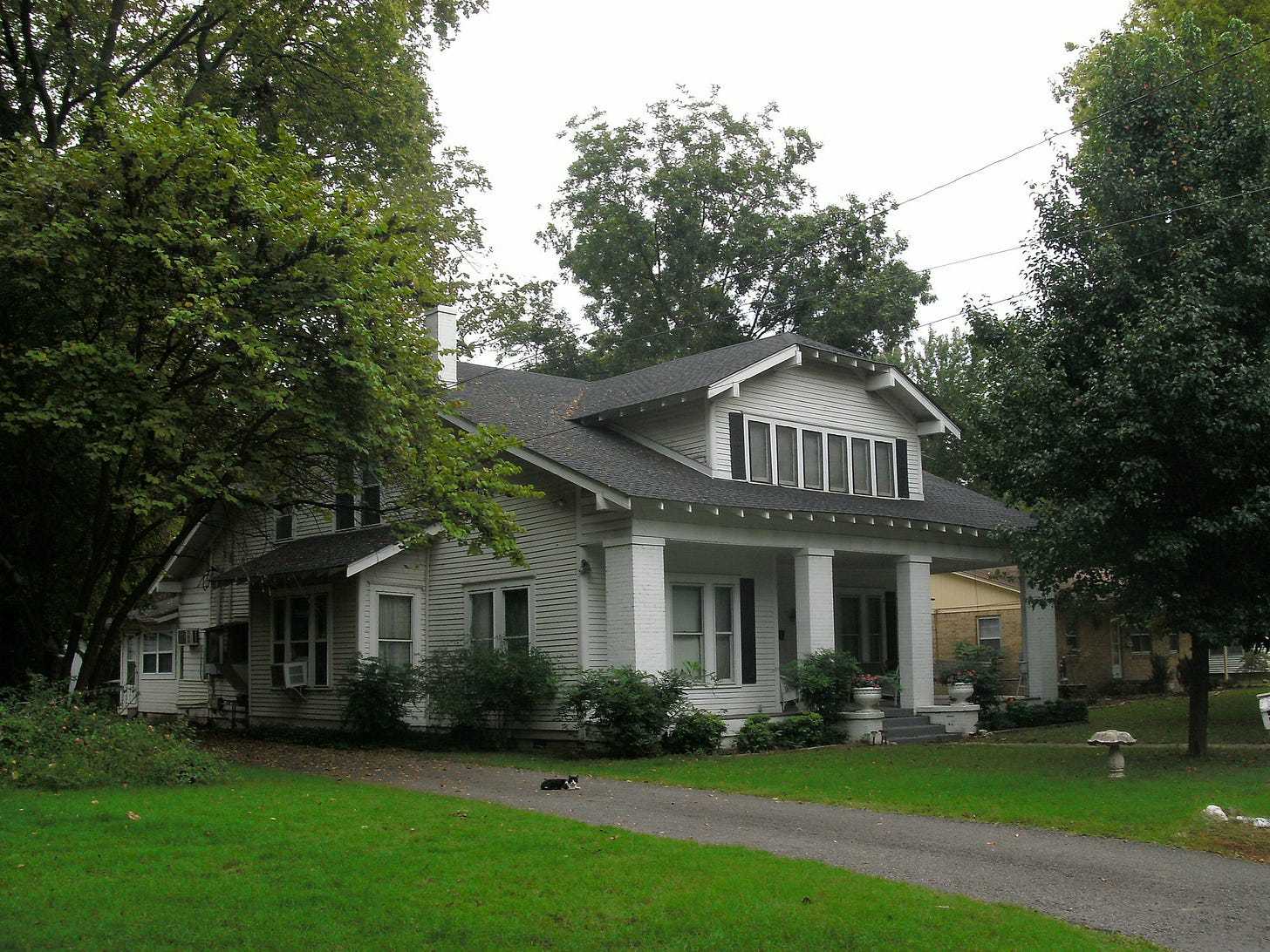 Both Leonard Ryan's son and grandson owned multiple cotton gins. It is also possible that they did not pay the cotton gin employees in cash, as they set up a commissary for their employees. It was standard practice to pay in company scrip.

With all these skeletons in his closet, Tom Cotton does not want people to learn the truth about slavery. Unsurprisingly, he calls the 1619 project "neo-Marxist" propaganda.
Since Tom Cotton does not want you to know about his family's slave-owning past, please do your job to troll him by sharing this article widely!