Discover more from Historic.ly
Our esteemed researchers are hard at work compiling all the stuff they forgot to teach you in school. Pull up a desk and get out your #2 pencils, because class is in session!
Over 36,000 subscribers
The Purging of Jeremy Corbyn - The Truth
Labour's report ahead of the EHRC commission shows no evidence antisemitism amongst Corbynites, but we did find pure sociopathy amongst Blairites
Today, all the prominent hacks from the establishment British newspapers are framing it as "The dramatic move came in response to Mr Corbyn's refusal to accept all the findings of the Equality and Human Rights Commission (EHRC)" Those who think the report is an internal sabotage effort by Blairites are absolutely right!

In March of this year, we reviewed leaks from an internal report commissioned by the Labour Party ahead of the EHRC report. I have thoroughly read the report and instead of finding instances of anti-semitism amongst Corbyn supporters, the report found instances of sabotage, leaks, and betrayal by the staff of the Labour Party to their constituency: the working class of Britain. Governance and Legal Unit (GLU) was responsible for handling complaints from members regarding anti-semitism, racism and sexism within the ranks. Instead of handling such complaints, the GLU was more interested in attacking and purging Corbyn supporters.
After Ed Miliband's embarrassing loss to the Tories in 2015, the Socialist Campaign Group put forth Jeremy Corbyn as their preferred candidate for the leader of the Labour Party. In response, Jo Green, the Labour Head of Broadcasting texted, "Anyone who nominates [C]orbyn 'to widen the debate' deserves to be taken out and shot."
Acting Director of Policy and Political Research Simon Jackson agreed with the sentiment and added, "quite. if the left can't get on the ballot it shows they're moribund… putting them on there only validates the views."
On September 15 2015, Dan Hogan, then a Policy Communications Officer an Investigations Officer in GLU (which allegedly investigates the so-called anti-semitism claim) also said,"Stevie P should be shot. Jez's speech was a total crock of sh*t." In response, Amy Fowler of fundraising responded with, " I feel like he should have maybe addressed the massive elephant in the room that we all kind of hate him [Corbyn].
In 2015, no one expected backbencher Jeremy Corbyn to win the election for the head of the Labour Party. As the report itself concluded:
In 2015, the membership of the Labour Party was about 200,000 and then suddenly more than doubled, with many of those joining with a desire to elect Jeremy Corbyn following the 2015 General Election defeat. In 2016, it grew again to well over half a million, as many members joined to participate in the 2016 leadership election. At its height Labour Party membership was almost 600,000, or roughly 1% of the British population.
Instead of welcoming workers and laborers back into the Labour Party, the Blairite staff of the Labour Party tried to sabotage Jeremy Corbyn at every turn. On 8 October 2015, Director of Policy and Research Simon Jackson again texted messages to his colleagues conspiring to get rid of Jeremy Corbyn. He said, " I'm fairly settled now on the view that they have to get rid of him in the next couple of months or the trots will embed themselves."
The GLU which was supposed to be neutral did everything but that. In September, 2015, John Stolliday discussed transferring over to the GLU. He said his new role would be "on the barricades for the resistance" against Corbyn. Later on, Stolliday texted," I reckon there will be some sort of plot post Xmas, but he will have enough support to limp on until we get wiped out in Wales & Scotland & local elections"
Before the 2015, Labour election, it seems like the GLU went on a self-described "trot-busting" spree. Some people were flagged as ineligible for liking a Facebook Page (For the Green Party). According to the report,
People were rejected as members or supporters in 2015 for retweets, including single retweets. A 21 August 2015 list of 238 rejected members, for example, included someone who "Retweeted Class War"; "Retweets the [National Health Action] party and appears to have been a supporter of them"'; someone with a "Pattern of retweeting Green Party material and expressing support"; and someone who retweeted a Mark Thomas tweet saying "Dear Labour… get fucked" after many Labour MPs' abstained on the welfare bill, which was opposed by many Labour members. It also included members rejected with the note "green party supporter -likes on facebook", and "likes a lotta greens on FB".
In fact, the Trot-busting spree was so extreme that the GLU's purges automatically got an appeal!
Their hatred towards people who they deemed "trots" were so extreme that the labour staffers fantasized about burning and urinating on a mentally ill member.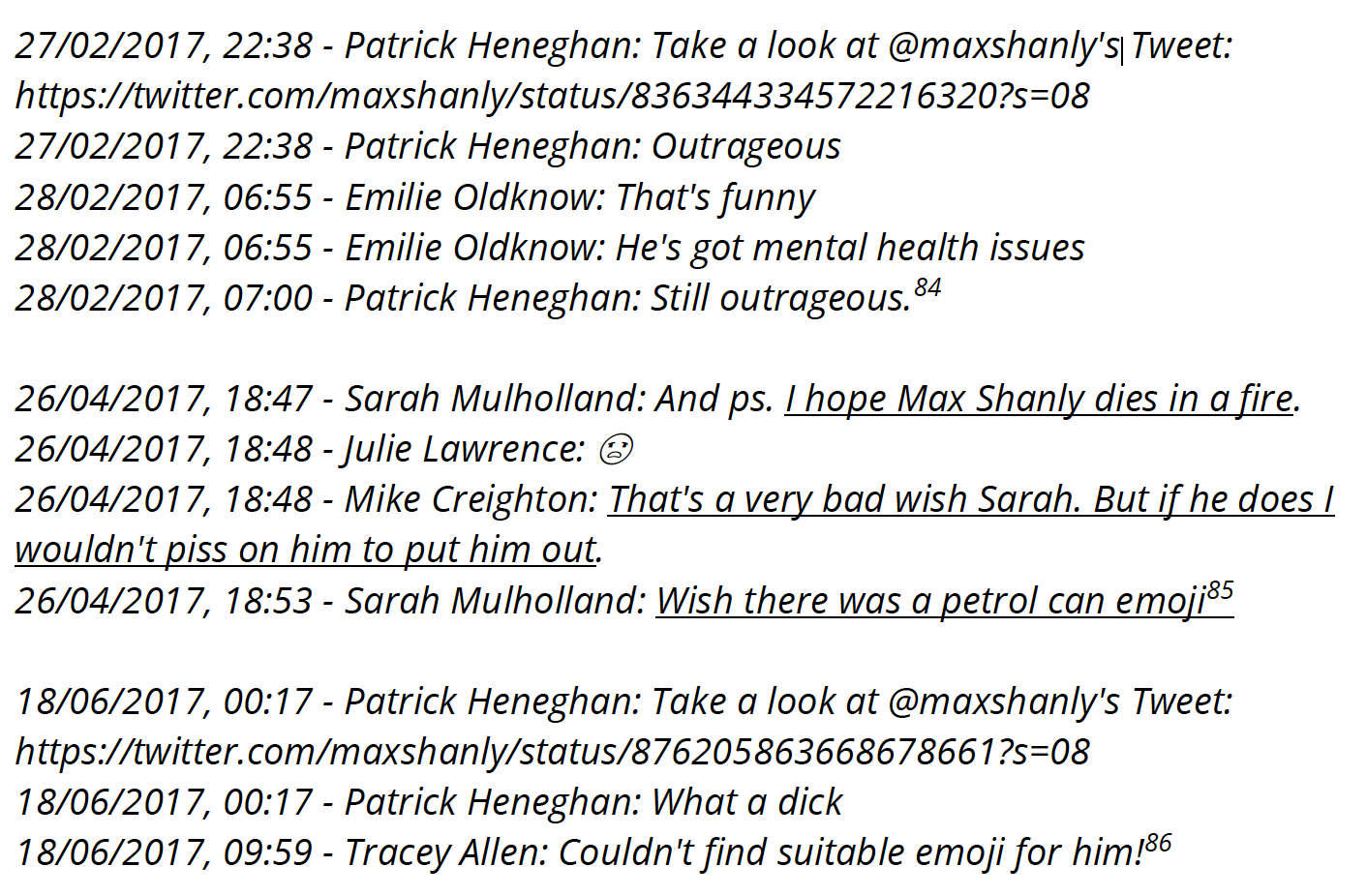 On April, 2017, when Theresa May called for a general snap election, instead of working to make sure that labour wins as many seats as possible, the staffers intentionally sabotaged Corbyn, his campaign and some members of the Labour Party. In February, they already talked about sabotaging the election in hopes of electing a new leader.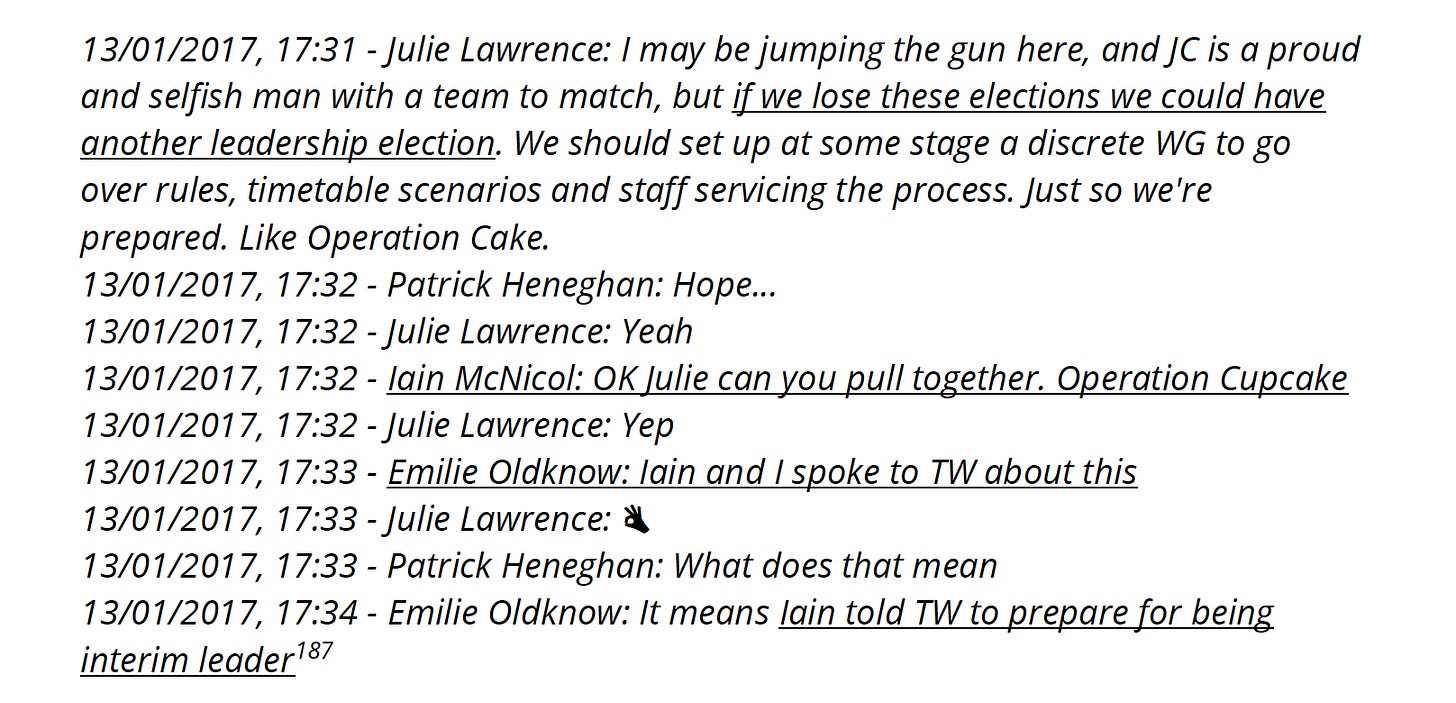 Furthermore, because many of the Corbyn supporters were young, Jeremy Corbyn's relied much on social media and digital media. However, the party staffers tried to sabotage Corbyn there too!

Simon Jackson also fantasized about a severe labour loss to "save labour"

In May 2017, exactly one month before the snap elections, senior staffers thought "death by fire" for Corbyn would be "too kind."

They further went on to sabotage Corbyn by assigning staff to a secret team permanently based in a separate building to aid Blairite MPS. All of this was kept secret from the leadership: Jeremy Corbyn.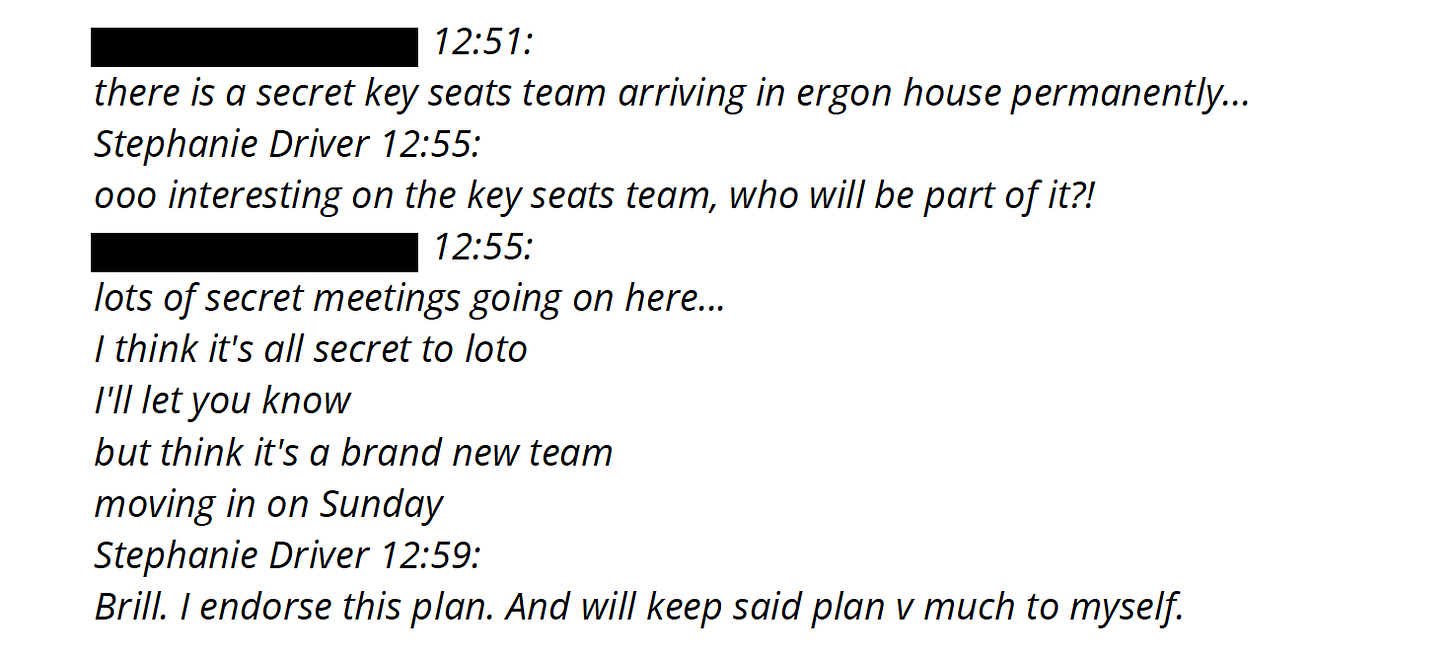 In the end, it looks like they funneled over 200K to help right-wing Blairites without the express permission of the party. Of course, none of these staffers were investigated for money laundering.

Meanwhile, Corbyn's speeches at the time were filling entire stadiums!
In the weeks leading upto the snap elections, these same staffers said they were "sick" after looking at Yougov polls where Labour was doing better than expected.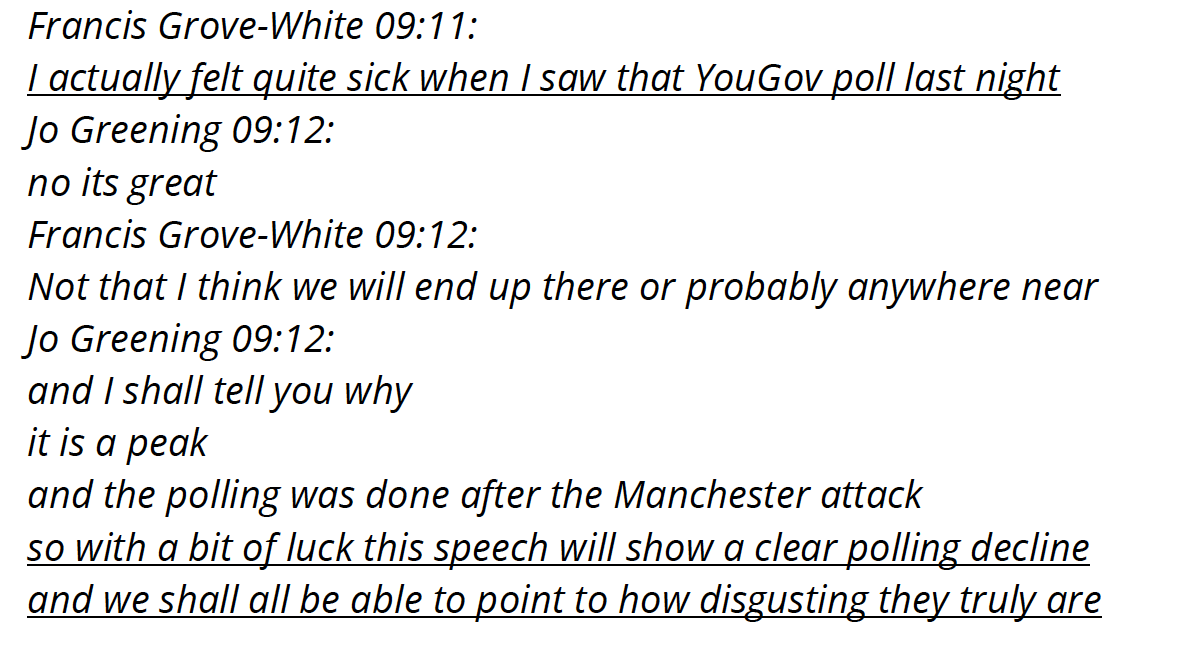 In fact, on Election Day, when Labour almost won: They had a hung parliament, these members reported that they were sad and sick.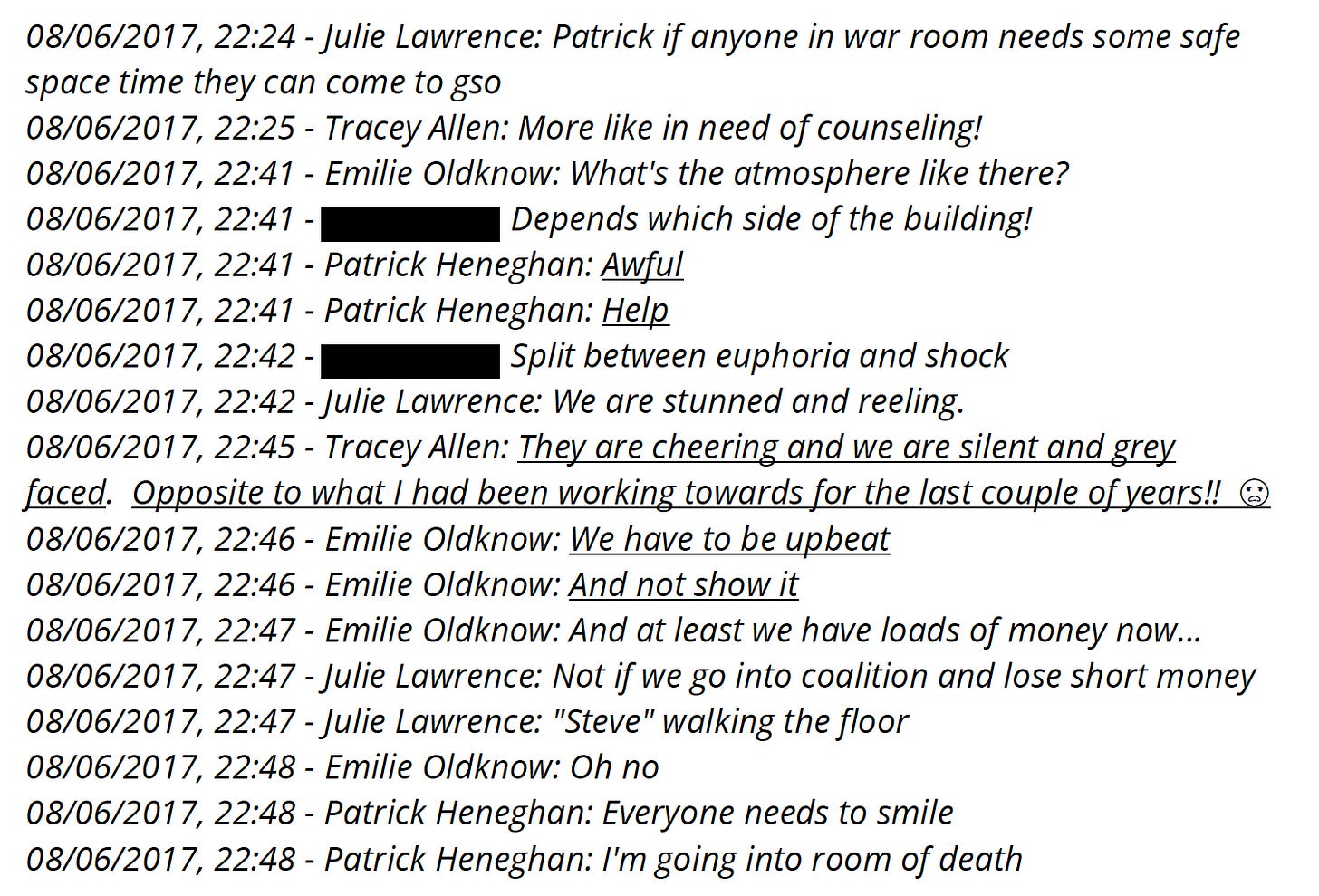 Despite all this internal sabotage, Labour gained nearly 30 seats. Tories had a hung parliament.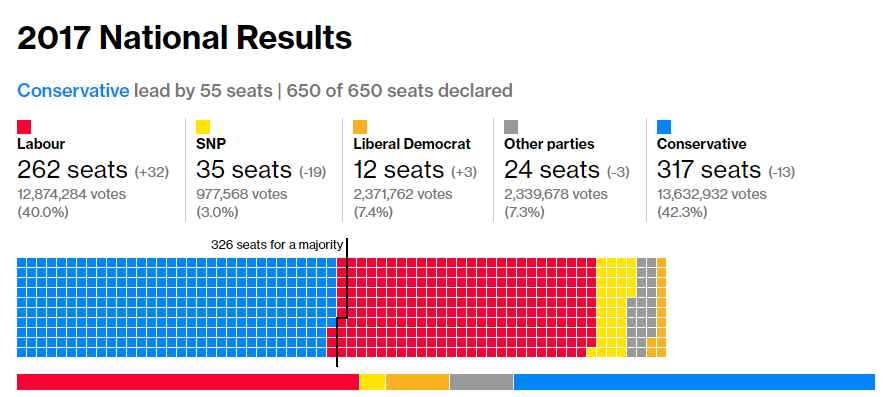 Now, imagine if all the staffers had not been conspiring and/or colluding against Jeremy Corbyn. In fact, Jeremy Corbyn's policies: nationalizing the railway, free meals, ending wars were very popular with the UK.
The report concluded:
Labour Party employees are usually engaged in politics and therefore obviously have political views. However, party staff are supposed to operate neutrally with fairness towards all members and affiliates, regardless of their faction or views.

The reality was the opposite. The party's resources - paid for by party members - were often utilised to further the interests of one faction and in some cases were used to undermine the party's objectives.
And now, in the midst of the Covid-19 crisis, many lives could have been spared with a Corbyn government. But, where is the investigation of these staffers that intentionally sabotaged Corbyn? Why has the British Media been silent about the contents of the report?
Read the entire 800 page report